Can novel corona-virus spread through fruits and vegetables.????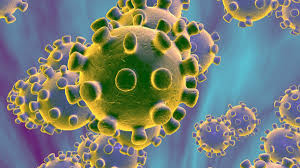 The world has already been suffering from long-standing problems of food security, safety, and nutrition. The situation intensifies severely during the COVID-19 pandemic.
Around 2 billion people had no daily access to healthy, nutritious, and sufficient food as per pre-COVID-19 statistics from the Food and drug administration. This number has increased exponentially during this pandemic situation. The efforts are being made by the government and several non-government organizations (NGOs) for the distribution of food among needy people at the national and international levels. In India, the public distribution system (PDS system) is playing a crucial role in achieving the targets for food security. Similar operations are carried out by various countries to fill the bellies of needy people during this corona pandemic. Apart from food security, food safety, and nutritional security is the major concerns that must be addressed to ensure proper nutrition and safety for 
consumers.
In India, people mostly purchase food items from mobile vendors moving around, mandis and/or nearby markets where fruits, vegetables, and other food items are sold in an open environment. This market culture is responsible for thousands of death due to foodborne illnesses annually. It is worst in India and other developing countries that foods are sold in the open while shoes are in a controlled environment.
So, there may be risks and hazards associated with the food items available in the market that may increase the severity of primary infection with nCOVID. Therefore, precautionary measures should be taken by food employers and consumers to meet sanitation and hygiene requirements. People should also follow the food and nutrition guidelines that have been released by WHO and other statutory organizations to rejuvenate and strengthen the immune system during the quarantine period.
Although, in the world, a great deal of effort is being made. However, there is a great lack, especially in underdeveloped and developing countries, of such resources and facilities that could have been used to raise awareness and save lives during this pandemic COVID-19 and in the future.
that could have been
used to raise awareness and
save lives in this pandemic COVID
–
19 and future
.